BUILT TO GO ANYWHERE, DO ANYTHING,
AND LOOK GREAT EVERY STEP OF THE WAY
History & Heritage
Blundstone holds quality and comfort at the heart of the company. Despite becoming one of the world's most recognisable boot brands, the company still remains Tasmanian and we have no plans to change. Let us guide you through Blundstone's history, and how we became one of the most successful boot brands today.
Blundstone boots are loved the world over thanks to their iconic looks, durability and lightweight comfort. Blundstone never stands still. We are constantly learning and designing new styles and technology for our increasingly diverse customers. We make boots that stand the test of time wherever life takes you.
Our products
Blundstone has been making tough, functional and stylish boots for work and leisure since 1870.
Decades of innovative design and production have brought us to where we are today. We oversee a global supply chain that brings together the best ideas, components and designs into a wide range of products for a wide range of applications. Our products are developed by a team in Hobart who use the best resources worldwide to create boots that keep pushing the boundaries of comfort.
History & Heritage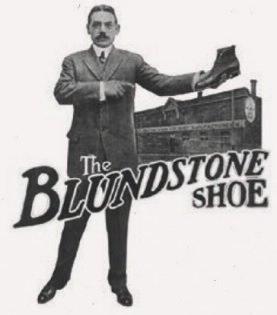 Our headquarters and manufacturing facilities are still in Hobart, Tasmania, and we have no plans to change that either. Please let us guide through the history of Blundstone and learn how we have become one of the biggest boot brands today.
1853
Brothers James and Thomas Cuthbertson set sail from England on the Coromandel ship, bound for Melbourne. However, the ship was blown off course by the Roaring Forties and landed instead in Hobart Town, Tasmania. It was James Cuthbertson who settled in Tasmania, starting his own business making and importing shoes, marrying and starting a family. He bestowed his flourishing shoe business to his first-born, James II. Married couple John and Eliza Blundstone arrived in Hobart around this time on the Conway ship from Derbyshire. John was also experienced in footwear manufacturing, like James Cuthbertson, and he soon set up his own shoe business in Liverpool Street, Hobart.
1892
John's shoe business was also flourishing. By 1892, he had established a factory and expanded to premises on either side of Collins Street. He also took his son, Sylvanus, into the business to carry on the family's shoemaking legacy.
1902
John Blundstone and Son was formed, and the pair soon bought a two storey factory on Campbell Street.
1932
Unfortunately, The Great Depression in Australia led to a huge downturn of profits for the now Blundstone Pty. Ltd and forced the company to be sold. It was purchased by the Grandsons of James Cuthbertson, James and Thomas, in 1932. They amalgamated the manufacturing operations under the Blundstone name, and retained it for the tannery in South Hobart
1979
Blundstone became the first Australian footwear manufacturer to receive a design award from the Industrial Design Council of Australia.
1986
Blundstone was the recipient of an Australian Export Award.
1989
Blundstone started manufacturing waterproof injection moulded footwear (gumboots).
2000
Blundstone acquired another footwear company named John Bull Footwear. This was founded in New Zealand in 1934, and sells tough, comfortable boots for work and play.
2004
Blundstone's legendary comfort evolved with the introduction of SPS XTRA into our footwear.
2010
Blundstone released the Xfoot range of premium safety boots, featuring revolutionary underfoot comfort and SPS MAX.
2011
Blundstone became the official naming rights sponsor of the world-class cricket facility at Bellerive in southern Tasmania, now known as the Blundstone Arena, Bellerive.
TODAY
Blundstone continues to expand around the globe, currently selling comfortable, unmistakable Blundstone boots and accessories to over 50 countries across five continents. We are constantly updating our shoe's technology, all for the pleasure of our customer.